Home
Molecular and Cell Biology at UC Merced
The Molecular and Cell Biology (MCB) group in the School of Natural Sciences comprises faculty members whose research is focused in five main interdisciplinary areas: 
All MCB faculty members accept graduate students pursuing Ph.D. or M.S. degree.  If you are interested in pursuing molecular and cellular aspect of one or more areas described above, please go to "Graduate Studies" under "Academics".
UPCOMING MCB SEMINAR SERIES - 5/9/2017 - MCB Seminar, Denise Garcia  (12pm, Room SE1 270K) Light refreshments provided.
Basic research in these areas has been part of UC Merced since the campus opened in 2005.
There are several "grand challenge" research questions in MCB, such as:
What are the biochemical mechanisms that control cellular metabolism and is dysregulation of these mechanisms the cause of obesity, cardiovascular disease and diabetes?
How can we identify and manipulate the genes that control stem cell differentiation to regenerate diseased tissues and organs?
How do microbes communicate with each other to form communities, and during fungal infections can we use this knowledge to prevent biofilm contamination in medical devices?
What are the molecular and cellular mechanisms that control immune cell recognition and response to viral, bacterial and fungal pathogens, and do these mechanisms also initiate autoimmune disease?
Can we predict the evolution of antibiotic and antiviral resistance and use this knowledge to design novel vaccines and chemical inhibitors to prevent and treat infection?
What are the molecular and cellular processes that are affected in brain cells to cause mental disorders such as autism, addiction and dementia?
These grand challenge questions are likely to be best answered using an interdisciplinary approach, contextualized in this broader question: What are the evolutionary and systems-level causes of cellular organizations, cellular dynamics, molecular and cellular networks, that lead to specific cell fate decisions in healthy and in disease states?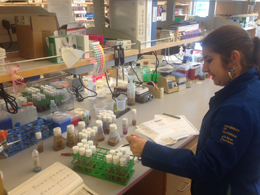 MCB faculty members promote unique and key opportunities for intellectual contributions by combining their research strengths in the core disciplines of biochemistry, molecular biology, cell biology, immunology and pathogenesis and neurobiology, and applying them to these grand challenge questions, using cutting-edge experimental and computational approaches.
Each MCB faculty member has made significant advances in his or her respective field, as demonstrated through many publications and awarded research grants.
In addition, we already have examples of interdisciplinary collaborations within the MCB unit, as well as between the MCB Units and other research groups at UC Merced and other institutions around the world. 
These collaborations are fostered by the enthusiasm of the MCB faculty members to build from solid, successful foundations in core disciplines and then combine their disciplinary strengths to create novel approaches to challenging scientific questions that seem impossible to tackle.
We envision these interdisciplinary studies will not only help answer questions, but also contribute to the scholarly development of our faculty, and ultimately, to embed this intellectual desire into our graduate student trainees and into our undergraduate curriculum.
Recent News